Meet Dr Paula Basilio (Chiropractor)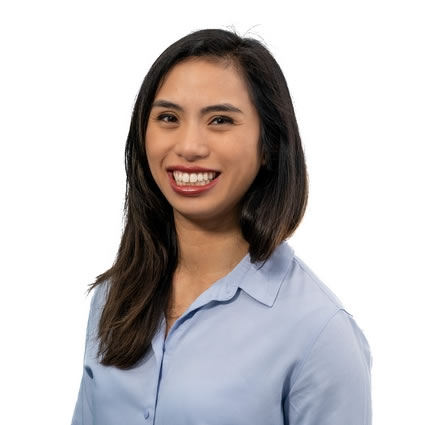 If you're looking for a female chiropractor in Dulwich Hill, Dr Paula Basilio (Chiropractor) at My Back Relief Clinic is ready to help!
Background
Paula's parents migrated to Australia from the Philippines just before she was born. She grew up in a family with a keen interest in health—her sister is a dentist and her mum is a nurse.
Paula suffered constantly from a wry neck as a child, with bouts lasting two weeks at a time. It wasn't until she received her first chiropractic adjustment during her first year of university that she realised there was a solution to her problem that could have prevented years of suffering.
Choosing Chiropractic
Like her mother, Paula was always interested in health science. Growing up, she had friends who were constantly seeking out different solutions for their back problems and she saw, through their progress, the health benefits they enjoyed with chiropractic. Paula wanted to know more! She received her Bachelors of Chiropractic Science and Masters of Chiropractic at Macquarie University in Sydney.
She worked in Brisbane for four years as a chiropractor in a pregnancy and paediatric-oriented clinic. While there, Paula joined a CrossFit gym and became a big advocate for fitness.
In addition to being the principal chiropractor at My Back Relief Clinic, Paula is an Associate Supervisor at Macquarie University Chiropractic Clinic (Eastwood student clinic).
A Passion for Healing
Paula's inspiration and passion for chiropractic is fueled by seeing massive life changes in patients after having chiropractic care. This varies for everyone. It can be seen in the patient who achieves the elite sports level they wanted or the patient who can now spend more time with their family without being disabled by their pains.
Paula educates patients to raise awareness of chronic pain conditions. The early management of pains and aches, especially in younger bodies, may help reduce the likelihood of that pain developing into a chronic condition in the future.
EXPLORE OUR SERVICES »
Personalised Care
As a trusted evidence-based chiropractor, Paula checks your progress at every visit to ensure you are making progress, and she adjusts your customised care accordingly.
Away from the Clinic
Paula has a keen interest in travelling the world and in particular experiencing the different foods of the world. Next time you are in the clinic, plan to tell her about your favourite dish!

Dr Paula Basilio | (02) 9560-0184